It's always an interesting experience for me when I come across an error message that, when Googled for, returns 0 results. I recently had this experience when working with a new Aruba RAP 108/109 access point. I logged into the interface and tried to change settings like adding an SSID and changing the default password and I received the following error message.
[callout] Configuration denied by Athena management[/callout]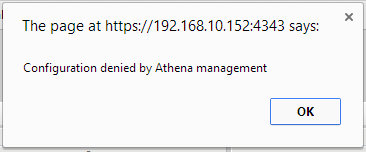 No matter what I tried, I couldn't save a single setting. As mentioned, I searched online and didn't find ANY relevant results. After toying around with this for a while, I realized that I had signed up for a demo of Aruba Central Cloud Management. When you associate an AP to Aruba Central, their management platform essentially takes over all configuration options for the AP. To continue configuring the AP, you have to log into the Aruba Central system and make your configuration changes there, which will propagate down to your AP. I don't find their management system to be very intuitive, and it still has some bugs, but it's headed in the right direction.
If you decide you want to manage your IAP's like you've used them in the past, without Aruba Central, then you will need to remove the AP from Aruba Central. Once that is done, you should be able to configure the AP without seeing "Configuration denied by Athena management" anymore. I hope that helps someone!