I ran into a problem today with a newly installed DirSync server. Brand new OS, brand new installation and yet users we were creating were NOT syncing up with O365. It just didn't make sense. After doing some basic looking around, I found that the application event logs were filled with entries similar to this:
[callout] Export:: Iteration: 4572, Current batch size: 10, Exported total: 45723, Successful total: 45723, TrackingId: 826b56fd-c273-4663-bce5-0380fad22797.[/callout]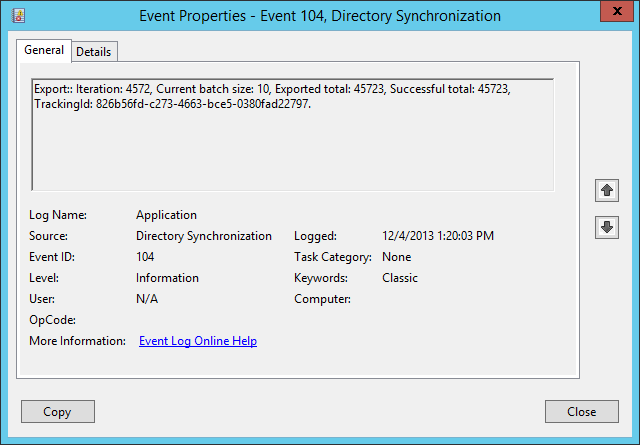 What seemed to be going on was that a sync would kick off, but then it would create hundreds to thousands of these entries over the course of several hours. The sync would eventually fail and then the process would start over again.
After doing some research and testing, I found that the problem lies in the version of DirSync we were using.It must have been a case of flat out bad timing since the version before and the version after both work. The bad version is 1.0.6553.2. I downloaded the latest version as of this file which is 1.0.6567.18 and it worked great. I had some problems reinstalling DirSync, but was finally able to upgrade.